In The News (9)
आफू तल पर्ने गरी वीरगन्जमा किन बल प्रयोग गर्यो सरकारले ?
भारतले यही घटनालाई बहाना बनाएर नाकाबन्दी थप कडा पार्ने स्पष्ट संकेत गरिसकेको छ। ..... 'असुरक्षाका कारण आफ्ना मालवाहक सवारी सञ्चालकलाई नेपाल जाने खतरा नमोल्न' सुझाएको छ। यसले अब नेपाल–भारत सीमाका अन्य नाकामा पनि आवतजावत ठप्प हुनेछ भन्ने प्रस्ट संकेत गर्छ। सोमबार बिहान ११ बजेपछि नै भैरहवा र नेपालगन्ज नाकाबाट कुनै सवारी साधन आवतजावत नहुनुले त्यही देखाउँछ। .....

वीरगन्ज घटनासँगै अब मधेस आन्दोलन र भारतीय नाकाबन्दी अर्को चरणमा प्रवेश गरेको छ, जुन झन् जटिल र चुनौतीपूर्ण हुनेछ।

...... सत्य के भने, मधेस आन्दोलित छ। मधेसी जनता आन्दोलित छन्। .....

प्रहरीले 'माथिको' आदेशमा एकाबिहानै कारबाही गरेको हो। राजनीतिक र गृह प्रशासनका विभिन्न उच्च स्रोतसँगको कुराकानीमा के देखिन्छ भने, यो भारतको नियत नंग्याउनलाई चालिएको कदम हो।

..... भारतले नेपाली सीमातर्फ अवरोधका कारण आवश्यक इन्धन ढुवानी गर्न नसकेको तर्क सार्वजनिक रूपमा गर्दै आएको थियो। स्रोतहरूका अनुसार यतापट्टिको अवरोध हटाएर भारतीय गाडी पास गरिदिएपछि कि त भारत पनि उता रोकिएका गाडी नेपाल पठाउन बाध्य हुन्छ कि ऊ नांगिन्छ भन्ने तर्कका आधारमा यो कदम उठाइएको देखिन्छ। .......

साँच्चै त्यस्तै हो भने यो ठूलो बचकाना कदम हो।

..... सार्वजनिक रूपमा भारतले भन्ने त्यही हो जे भन्दै आएको छ। तर, औपचारिक छलफलमा त मधेसको समस्या समाधान नभई आपूर्ति सहज हुन्न भनिरहेकै छ। परराष्ट्रमन्त्री कमल थापा भारत जाँदा पनि उसले त्यही कुरा दोहर्याएर पठाएको थियो। ..... यो अवस्थामा सरकारसामु दुईवटा मात्र विकल्प थिए र छन्। कि त सरकारले तेस्रो मुलुकबाट इन्धन ल्याएर आपूर्ति सहज बनाउन सक्नुपर्यो, जसले भारतको तेल अस्त्र स्वतः असफल हुनेछ। होइन भने,

मधेसी दलसँग वार्ता गरेर भारतलाई पनि सहमत गराउँदै समस्याको हल खोज्नुपर्यो।

..... यी दुवै बाटोमा दह्रो पाइला चाल्न नसकेको सरकारले आफ्नो हात तल पर्ने गरी आलोकाँचो कदम चालेको छ, वीरगन्जमा। जसले अब सरकारको निम्ति थेग्न गाह्रो हुने गरी चुनौती थपिएको छ।
वीरगञ्ज घटनापछि भारतले नेपाललाई भन्यो- 'भिडन्त गर्न खोजेको हो ? अब नाका खुल्दैन'
मधेशमा फेरि सेना परिचालन गर्ने योजना
हिजो मात्रै 'सकारात्मक वार्ता' गरेको यो ढोंगी सरकारको नियत खराब नभएको भए प्रहरीले विरगंजमा राती अध्यारोमा प्रदर्शनकारीको टेन्टमा आगो लगाई जनतालाई समेत जिउँदै जलाउने प्रयास गर्थेन। आन्दोलन दमन गर्न प्रहरी विफल भएपछि यो रोगी सरकारले बिरगंजको सड़कमा सेना उतार्न चाहन्छ । ताकि स्थिति नियन्त्रण बाहिर गएको बहानामा सेना परिचालन गर्न सकियोस् । एमाओवादी गृहमन्त्री शक्ति बस्नेतको कुरूप अनुहार पनि देखियो । खासमा वार्ताको नाममा नौटंकी गर्दै आएको यो तानाशाह सरकारले कुनै पनि हालतमा मधेशी, थारु, जनजाति दलितको माग कुनै पनि हालतमा तुहाउन चाहन्छ। यहाँ इन्धन र ग्यासको अभावले देश अक्रान्त भैरहेको बेला वार्ता र सहमति मार्फ़त मुलुकलाई निकास दिनुको सट्टा शक्ति बस्नेत शक्ति प्रदर्शनमा उत्रेका छन् । र, जनता गर वा मरको अवस्थामा छन् । किनकि, उग्रवाम गठबंधनको यो सरकार निर्लज्ज र तानाशाह भैसक्यो । त्यसैले, की गोली खाऊ की बाटो छोड़, आन्दोलनकारी सामु अरु बिकल्प नै छैन ।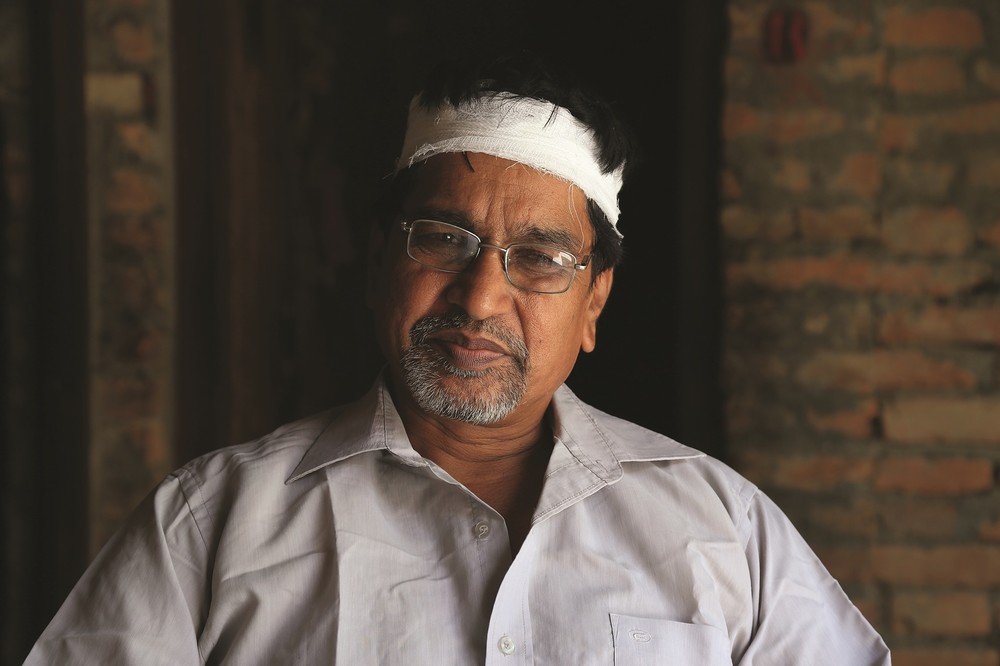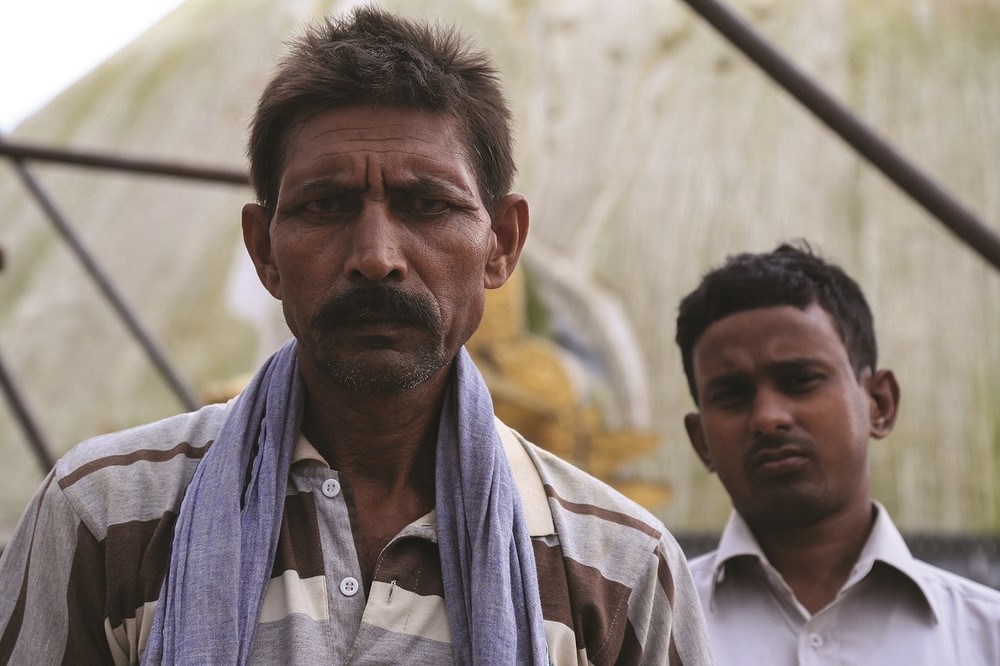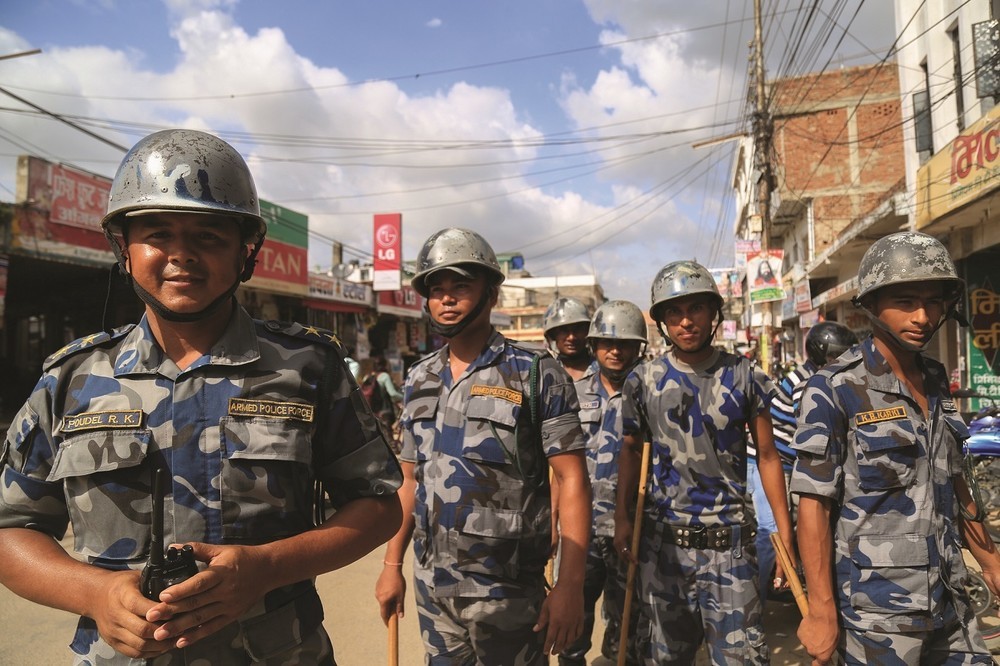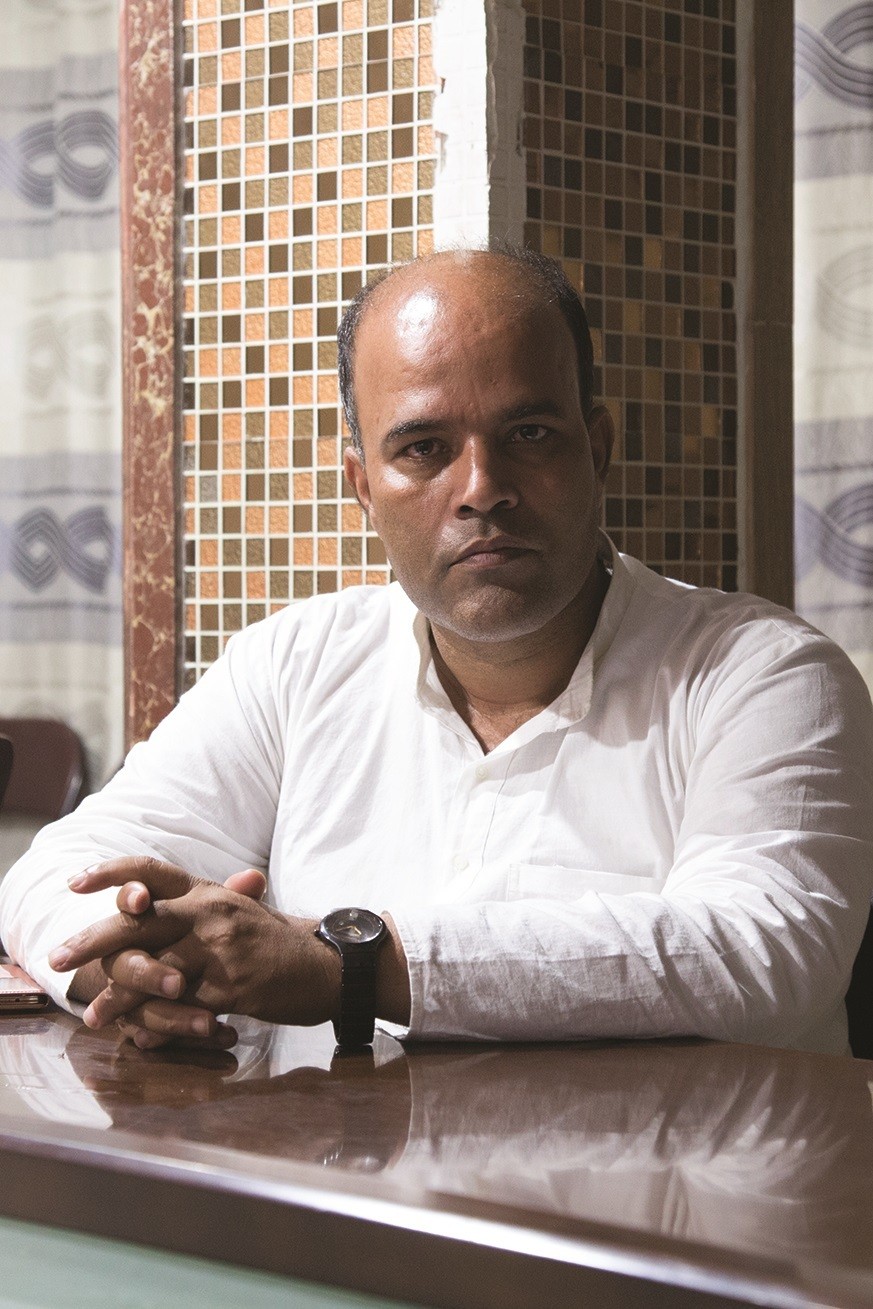 The Silent Majority: A Civil Rights Movement Grows in the Shadows of Nepal
What transpired in Janakpur in July was a tipping point for the turmoil that has now engulfed the region, an uproar among ethnic groups such as the Tharu and the Madhesi that, for decades, have been denied equal rights and proper representation in government. In September, a new constitution was promulgated to introduce a federalist system that would create a more inclusive Nepal. But it failed to address those inequalities and instead deepened ethnic fissures....... Madhes occupies the lower strip of Nepal that borders India, and the low-lying Terai region is geographically distinct from the mountains and hills that compose the rest of the country. It was given to Nepal through agreements signed by the British Empire in 1816 and 1860, and many claim that, since then, the country's government has not regarded the people of Madhes as "real Nepalis." Many are even denied official identification cards. ...... occupying 17 percent of its land mass and producing more than 45 percent of its GDP. ..... Despite being the economic backbone of the country and the Terai accounting for nearly 51 percent of Nepal's population, the region is little-known internationally, and its people suffer misrepresentation and discrimination. Madhesis occupy only 5 to 10 percent of all government sectors, including the police and armed forces,

and receive approximately 15 percent of the national budget to develop their infrastructure.

....... The dark-complexioned Madhesi compose a minority of the police, so protests often become de facto race wars, as was the case at the Janakpur demonstrations in July. Video footage from that day shows blatant abuse of force as officers hurl rocks at protesters behind the cover of plastic shields........ Karna recalled similar events: "While beating, they always tell that 'you Madhesis try to dare us? You want rights?'" he said, lifting up his clenched fist with wide-open eyes. "'These are your rights.'" ...... More than 40 people were killed in a 45-day period between August and September. ......

Many fear that this situation could return Nepal to civil war, a state the nation left behind only nine years ago.

..... Karna and other Madhesi leaders refer to the situation as an "internal colonization." ..... "We never became equal citizens of Nepal," he said. "We have long been denied national identity card[s]...

and still, almost twenty percent of the Madhesi dwellers are stateless."

........ inhabitants of Madhes often marry people from India. Many children of such marriages are given what Madhesis call a "second-class" citizenship that prevents them from holding high-level positions in politics. A clause in the new constitution will make it difficult for Madhesi children with foreign fathers or single mothers to attain full citizenship. Many are outraged that women are not given the same citizenship rights as men and consider the new constitution to be misogynistic.

Parents must be able to prove they live in Nepal (which is quite difficult because many do not possess land), and children must be registered with district offices. If these requirements are not met, children are rendered stateless. Some estimate their number to be in the millions. These individuals are unable to vote, buy or sell land, open bank accounts, access public facilities, take high school exams, or even purchase mobile SIM cards.

......... Many Nepalis from the hill region believe that Madhesis are just Indians trying to leech off of Nepali rights and overrun the country. "Giving all Madhesis rights to our political system is like handing our parliament over to India," said Hem, the owner of a small trekking company in Kathmandu. "Many other countries don't naturalize the spouses and children of foreigners. Why should we? Is it unreasonable that we don't want the reins of our country handed over to a foreign country?" ......... On a characteristically hot day in Janakpur, I met with Amresh Kumar Singh, one of the few Madhesi parliamentary seat holders, at Hotel Welcome. He was unafraid to speak on record about the move to federalism. "During the process of drafting the new constitution," Singh explained, "ruling elite hill Brahmin and Chhetri completely marginalized and ignored the aspirations of the Madhesi people." ......

As protests intensify, many Madhesis are finding leadership in the outspoken activist C. K. Raut. A controversial figure, Raut returned to Nepal after studying in Japan and the UK and working in the US as an engineer, and he is now the face of a growing movement calling for an independent Madhes. He has been arrested 11 times and is currently living under an unofficial house arrest in the southeastern district of Saptari. In 2011 Raut directed a documentary called Black Buddhas to help spread awareness of Madhesi issues. His name elicits strong contempt among Madhesis and non-Madhesis alike who feel he is trying to destabilize the country.

....... Knowing that our emails were likely being monitored, I maintained a vague correspondence with Raut over the course of several weeks before he invited me to his home. ....... "Whatever revenues were created in India, the majority of the resources went to the British. The same thing is happening here," he said, sitting in front of a collection of books, his hair blowing in the wind of a small plastic battery-operated fan on his desk. "We are basically a colony of Nepal. They are not interested in developing for the Madhesi people's sake, but for their own economic benefit. They want to generate revenues here and exploit. They don't treat [Madhes] as their own land, but as an income source." Raut claimed to draw inspiration from Mahatma Gandhi and emphasized that the revolution must be peaceful if its gains are to last long into the future. ......

Nepal must now either amend its constitution to accept the people of Madhes or face what could be a violent uprising of the millions who feel they've had enough.
नेपाल के पीएम ओली ने दी चेतावनी, कहा-हमारे घरेलू मामलों में दखल न दे भारत
सीमा पर एक भारतीय नागरिक की मौत के कुछ घंटे बाद काठमांडू में आयोजित एक समारोह में ओली ने नेपाल पर भारत की नीतियों की आलोचना की। ओली ने खासकर 20 सितंबर के बाद देश में लागू नए संविधान पर भारतीय रुख की ओलचना की।
एमाले चाहिएको पार्टी होइन, कांग्रेसमा घुसे हुन्छः प्रचण्ड
रुपैडियापछि सुनौली-भैरहवा नाका पनि ठप्प
Border Ballot: In Raxaul, they vote for a Bihar govt that will 'solve problem in Nepal'
Sympathy for the Madhesi cause is widespread among people living along the border, with their shared ties going back a long way.
"We know we will have our own vidhayak, our own government. And

they (Madhesis) aren't even treated as citizens

there. This is because Madhesis are from among us." ...... Sympathy for the Madhesi cause is widespread among people living along the border, with their shared ties going back a long way. "My mother's home is in Birgunj," said Manorama Devi. "I was born there. I came to Raxaul after I got married here. I am now Indian but Birgunj too is my home." She said "kamal symbol people have been particularly good to Madhesis who are sitting (in protest) on the bridge". "We voted for kamal. They are helping our brothers on the bridge." She was referring to a community kitchen run by a businessman linked to the BJP. ...... A Customs official at the border toll counter said they had orders to remove the protesters from the bridge and shut the border until polling is over. "We didn't remove their tents but asked them to clear the bridge for 36 hours. They can come back tomorrow," he said. ...... "Meetings in Kathmandu this week are going to be decisive. If the Nepal government don't take care of our issues, it will change everything. We won't ask for a separate state then, but a separate country." ..... Dinesh Sah Kanu, another Madhesi said, "We are happy to see people voting with enthusiasm. We wish our issue is resolved too. Modiji's government has been very helpful." ..... In Nepal, there is a famous mela of Ghadi Mai that happens every five years. Our legislator is like Ghadi Mai because he appears once in five years, at the time of polls." ..... With the Madhesi protest on the bridge having completed 79 days, hundreds of trucks and containers are stranded on the road. A few drivers had lighted kerosene stoves near a container and were cooking their lunch. ........ "We have been stuck here for more than two months. The malik sends a few thousand rupees once a while to the person who owns this parking space," says Mukesh Sahani, from Begusarai. "No one from the administration has come to see what is happening to us. We went to the thana and requested the darogaji to give some security to the tankers. Imagine what will happen if anybody gets up to mischief." Anil Chouhan from Mirzapur in Uttar Pradesh and Bhim Paswan from Gaya were sitting with Sahani. "If this blockade doesn't end soon, we will starve on the road. Mukesh bhaiya has been helping us, otherwise our maliks in Kolkata haven't sent any money," Chouhan said.